MODEL AL-SP auto terminal insert machine
This model is a machine that automatically inserts various kinds of terminal pin into a epoxy- molded core or bobbin of CD-ROM, Videotape recorder, solenoid etc..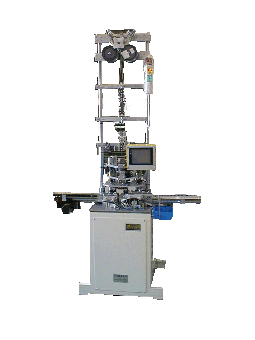 <FEATURES>
(1) Small error in the inserted depth due to the slipping, improved by new designed mechanism of inserting a pin cut in a determined length.
(2) Easy maintenance is realized by the separation of crimping, cutting, carrying and inserting blocks.
(3)Easy construction of an automation line is realized by linearization of supply and removement.
<SPECIFICATIONS>

Capability of inserting

30〜50/min

Wire sizes

10mm2≧are

Control

sequencer

Power

AC 200V 3P 750W

Air supply

5kg/cm2

Dimensions

W 700 x D 600 x H 2,300.

Weight

approx. 300kg
The above specifications are subject to chages in our improvements without prior notice.
ALTEC KYOTO CORPORATION
31-1 Kaminaranagaike, Yawata-shi, Kyoto 614, JAPAN
TEL: 81-75-983-1662, FAX:81-75-971-1692