Al unit series
MODEL AL-SOLPOT-03 Lead-wire soldering equipment
This model is a soldering equipment machine which solders lead-wires of HDD, FDD, CD-ROM etc.in a specified size.
<FEATURES>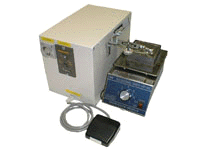 (1) A smooth operation by a cam drive method.
(2) The operation by a foot switch allows the operator to work with both hands.
(3) Easy operation where the operator is only required to load works on the recever unit.
(4) Small installation space: Lght-weight and compact.
(5) It is possible to purchase a single separated unit as the drive unit and the melting-pot unit are separated from each another.

<SPECIFICATIONS>

Drive unit:

Solder unit:

Motor

geared motor with SP

Power

100V, 480 W

Operaion time

3`5sec (variable)

Temperature

180Ž`470Ž

Power

100V 3OW

Effective sizes of pot

W90xD90xH63

Dimensions

W 210 x D 300 x H 210

Weight

2.5kg

Weight@

7.5 kg

Dimensions

W90 x D260 x H142

™™™™™™

™™™™™™

Capacity of melted solder

approx. 4.7 kg MAX.
The above specifications are subject to chages in our improvements without prior notice..
ALTEC KYOTO CORPORATION
31-1 Kaminaranagaike, Yawata-shi, Kyoto 614, JAPAN
TEL: 81-75-983-1662, FAX:81-75-971-1692