SERIES AL-8000
MODEL AL-8200 CNC controlled horizontal type 8 coil winder
The model AL-8200 is a CNC controlled spindle type 8 coil winder. The installation of a up-to-date high-speed computer and an AC servomotor make it a high perfomance coil winder which satisfies all sorts of coil specfications. It is possible to construct the automation line by connection of periphral equipment to this coil winder.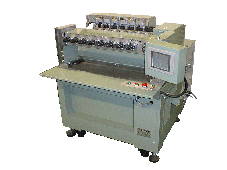 <FEATURES>

(1) Small installation space by the unification of mechanics and electronics.
(2) Dialogue type programming by coil-winder language with an LCD display.
(3) No loss of operation time: The introduction of rotary indexing allows the operator to insert/remove the core within the coil winding time.
(4) High reliabilty by adoption of an all-spindle AC servomotor.
<SPECIFICATIONS>

Control unit

TYPE@ALFICS-3

spindle travel

X-axis 80 mm, Y-axis 90 mm, z-axis 60 mm

Number of driving spindles

8 (spindle pitch 80 mm)

Power

AC 200/220 V, 3P, 50/60 Hz

Wire sizes

0.02`0.50'm

Option

Auto wire supply/exclusion unit

Rotational speed

H type 8,000 rpm, L type 4,000 rpm

Dimensions

W 1,170 x D 950 x H 1,100.

Weight

850kg

™™™

™™™
The above specifications are subject to chages in our improvements without prior notice.
Contact Us: altec-info@altec.co.jp
ALTEC KYOTO CORPORATION
31-1 Kaminaranagaike, Yawata-shi, Kyoto 614, JAPAN
TEL: 81-75-983-1662, FAX:81-75-971-1692