SERIES AL-353 for multipole stator@@Bold-wire aligned coil winder
MODEL AL-353-1FNC CNC controlled coil winder(Patented)
The AL-353-1FNC allows an aligned coil winding of a large-sized bold-wire multipole stator by a special locus-drive head of nozzle and shows the best performance in a multi-layer core winding.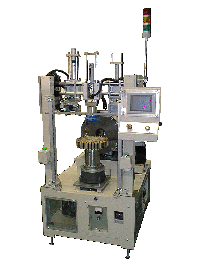 It is suitable for multipole generators, large-sized DD motors, mechatronics actuators, AC servo motor etc..
<FEATURES>
(1) High operation efficiency by automatic cutting and holding of copper wire, where the operator is only required to load/unload the core.
(2) High reliability and productivity by introduction of a full spindle NC controlled AC servo motor.
(3) As for multipole stator coils, the angles and positions of intermediate pulling wires are freely selected by programming with NC controlled indexing.
<Examples>
Outer diameters of core:270mm 
Thicknesses of core layer:60mm
Wire  sizes:0.9PEW 
Number of poles:36
Winding:99 
Core layer:4
<SPECIFICATIONS>

Number of spindles

'P

Thicknesses of core layer

80 mm Max

Nozzle rotational speed

500 rpm MAX

Wire sizes

1.5'mMAX

Indexing

free choice by NC control

Control unit

TYPE ALFICS-3

Traverse travels

100mmMAX

Dimensions

W 1,500 x D 950 x H 1,700.

Outer diameters of core

300mm Max

Weight

approx. 800kg
The above specifications are subject to chages in our improvements without prior notice.
ALTEC KYOTO CORPORATION
31-1 Kaminaranagaike, Yawata-shi, Kyoto 614, JAPAN
TEL: 81-75-983-1662, FAX:81-75-971-1692