SERIES AL-2000 for multipole stator.
medium-sized wire coil winder
MODEL AL-2021 CNC controlled coil winder
( includes a 1-head and 1-turn table )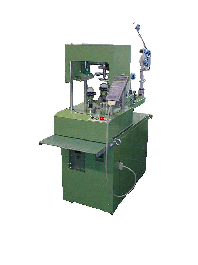 The AL-2021 is a coil winder for mid-sized multipole core of laser beam printer, copying machine, large-sized fan, high-capacity HDD etc..

<FEATURES>
(1) High operation efficiency by automatic cutting and holding of copper wire, where the operator is only required to load/unload the core.
(2) To improve the reliability and productivity, an all spindle NC controlled AC servo motor is introduced.
(3)As for multipole stator coils, the angles and positions of intermediate pulling wires are freely selected by programming with NC controlled indexing.
(4) The control system is compatible to our AL-1022 series.
< SPECIFICATIONS>

Number of spindles

'P

Layer thicknesses of core

50 mmMAX

Flyer rotational speed

1,500rpm

Wire sizes

1.0'¨mMAX

Indexing

free choice by NC control

Dimensions

W 500 x D 900 x H 1,500

Traverse travels

100mmMAX

weight

approx. 250kg

Outer diameters of core

80mmMAX
The above specifications are subject to chages in our improvements without prior notice.
ALTEC KYOTO CORPORATION
31-1 Kaminaranagaike, Yawata-shi, Kyoto 614, JAPAN
TEL: 81-75-983-1662, FAX:81-75-971-1692