Automatic aligned coil winder for small precision motors
MODEL AL-1032-FNa CNC controlled coil winder.
This model is a CNC controlled 2 aligned coil winder for small motors . The greatest advantage is a newly-developed core-flyer unit that orerates at a high speed in aligned coil winding of cores of CD-ROM, HDD etc..
<FEATURES>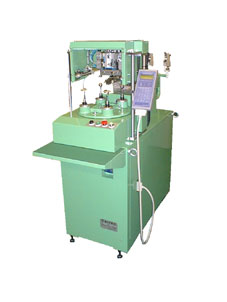 (1) A newly developd core-flyer unit realizes aligned coil winding with high accuracy.
(2) Introduction of a turn table enables one-operator's parallel operation of 2-4 sets as loadig and unloading of the work is possible within the coil winding time. No loss of operation time.
(3) High productivity and reliability are realized by introduction of servo motor (Minasu co., Ltd. ).
(4) A new simple method of making the control program. Only input 4 code command according to the winding patterns.
(5) A coil winding program is permanently stored in a battery-less IC memory card.
This removes mistakes which arise in changing the specification..
(6) The installation space is the same as that of our SERIES AL-1022.
(7) An automatic wire-supply unit could be attached optinally .
<SPECIFICATIONS>

Number of spindles

2 (each runs simultaneously)

Work sizes

8`40mm O.D.

spindle pitch

150mm

Wire sizes

0.04`0.3mmƒÓ

Flyer motor

400W AC servomotor

Spindle rotational speed

3,600rpm MAX

Traverse motor

200W AC servomotor

Dimension

W460 x D990 x H1360

Index motor

200W AC servomotor

Weight

220kg

Terminal treatment

automatic

™™™

™™™
The above specifications are subject to chages in our improvements without prior notice.
ALTEC KYOTO CORPORATION
31-1 Kaminaranagaike, Yawata-shi, Kyoto 614, JAPAN
TEL: 81-75-983-1662, FAX:81-75-971-1692