SERIES AL-1000 for multi-pole stater of small-sized precision motors.
MODEL AL-1024AK CNC controlled coil winder.
(includes a 4-head and 2-turn table)
Model AL-1024AK is a high-performance coil winder with a mechanism of terminal pin binding,that was speciallly developed for small precision outer-rotor type motors used in HDD,FDD,CD-ROM etc..
<FEATURES>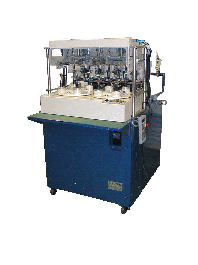 (1) High operation efficiency by automatic cutting and holding of copper wire, where the operator is only required to load/unload the core.
(2) To improve the reliability and productivity, it has a 4 spindle NC controlled AC servo motor.
(3) The development of S-shaped curve binding program allows a high-speed and precise operation.
(4) The perfect exclusion after terminal pin binding makes free from the rolling-up.
<SPECIFICATIONS>

Number of spindles

4 ( each runs simultaneous )

Thickness of core layer

15mm Max

Flyer rotational speed

5,000rpm

Wire sizes

0.3mm Max

Indexing

free choice by NC control

Control unit

TYPE ALFICS-3X

Traverse travel

100mm max

Dimension

W 800 x D 900 x H 1350

Outer dimeter of core

40mm Max

Weight approx.

400kg
The above specifications are subject to chages in our improvements without prior notice..
ALTEC KYOTO CORPORATION
31-1 Kaminaranagaike, Yawata-shi, Kyoto 614, JAPAN
TEL: 81-75-983-1662, FAX:81-75-971-1692